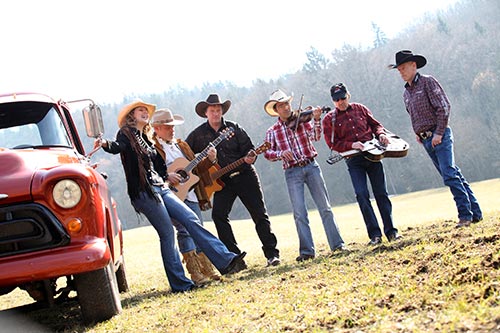 The Hillbilly Rockers Band is a Country Music Band created in April 1999 by drummer Franck Bauquis, whom passion for Country Music guided his whole life.
Year by year they hit a lot of stages, in every venue around the Rhône-Alpes area and in Switzerland. They become known at home while the Line Dance phenomenon grows all around Europe.
In 2004, the Band goes through several changes among their musicians. Jimmy, an inspired multi instrumentalist, Jean-Hugues, a Bass player, and Astrid, the 21 year-old singer joined the Band. In 2006 arrives Nathalie, a fiddle player, who leaves the Band after one year to become a mommy! Margaux takes her place and Freddy (guitar) joins the Band.
2011 is a new age for the Hillbilly Rockers Band, and that will inspire them the title of their new album "Update 3.0". Everything changes: the sound, the design, the work and the musicians. Leo replaces Margaux and Lionel takes the Bass.
The new band is ready to hit the biggest stages of Country Music in Europe and the success grows as the band members grow together. And they travel from the win of the Marignac "New Talent" Festival to the amazing Festival of Craponne-sur-Arzon, sharing the main stage with Kelly Willis and Bruce Robison.
The Hillbilly Rockers Band has his own sound, his own way to make Country Music and to share it with the public. Every musician is talented and passionate, and their love of the stage and their strong friendship make each concert a moment of joy and sincerity.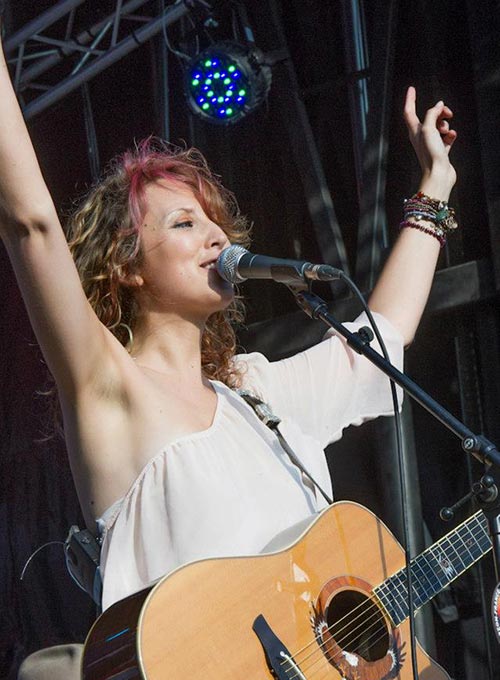 Name: Astrid
Instrument: lead vocal / acoustic guitar
Astrid
---
Astrid sings since her childhood. "In my family, everyone plays an instrument, or sings, and every family moment was like a little show". Naturally, her first music love was the South American music, for his father his a native Columbian. She sings on stage since her teenage and falls in love with the public and the applause. She learns how to do it great.
In 2002, she decides to change her musical universe and turns to Country Music.
Il fell in love with the voices and their harmonies. I wanted to do that, precisely".
The Hillbilly Rockers Band meets her in 2004. She develops a Country voice and writes the Band their first original songs.
I am a workaholic, it's my way to grow up!.
Her special touch is her presence on stage and her sincere relationship with the public.
I want to give the songs to the public. Music is the way I've found to "share" in my life.
---
Franck
---
Franck starts playing drums at age 16. He quickly plays in several Rock n' Roll bands. At age 20, he finds out about Country Music, and he'll never leave her. He creates the Hillbilly Rockers Band in 1999.
Franck is a passionate man and musician; he dedicated his whole life to Country Music. With her wife Claudine, he opened the Hillbilly Country Western Club and La Marmite du Cowboy, two venues dedicated to Country Music. He also practices western riding and its traditions. His main values are trust, honesty and work.
On and off stage, Franck gives the band its solidity. Always telling jokes, he makes his musicians laughing to tears… even in the middle of a song!
---
Name: Jimi
Instruments:
electric guitar / acoustic guitar
dobro
lap steel guitar
backing vocals
Christian, aka « Jimi »
---
Jimi is a talented multi instrumentalist. So talented that he dedicated his life to music, becoming a professional at a very young age. He plays a lot of styles and is interested in every kind of music "'til I can play it with a guitar, of course".
Among his influences, one of the biggest is Jimi Hendricks (he chooses his nickname from him).
Jimi joins the HR band for the first time in 2001. And he'll come back in 2005. He gives the band his talent and experience. He is a cultivated man who loves to play with the words. Among the band, he's the quietest Hillbilly.
---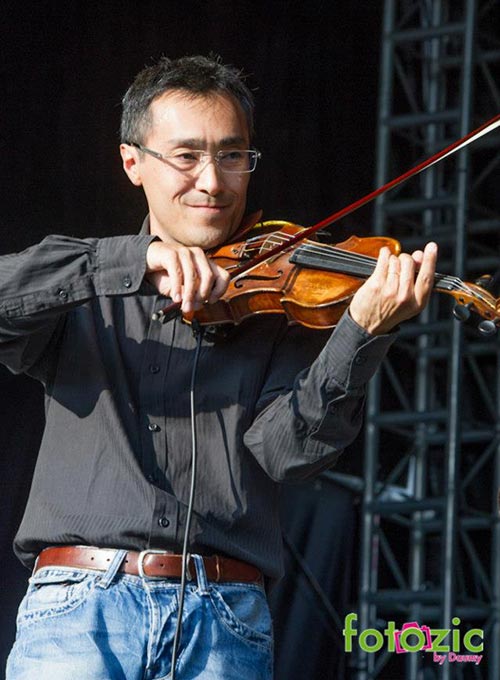 Name: Leo
Instrument: fiddle
Léo
---
Leo is a gypsy. He was born in Brazil, from Japanese parents. There he learned fiddle and decided that music would be his life. Brazil couldn't give him what he needed, so he came to Europe to improve his practice. From Geneva to Annecy, Leo first dedicated his life to classical music and plays in a worldwide famous quartet. The success is here but Leo wants more. He always loved Country Music fiddle.
One night he meets Franck and he signed up: he'll wear jeans, a Stetson hat and join the other Hillbillies on stage. He gives the band his great experience, his professionalism and his friendship above all. Leo is a generous guy, always carrying for the others. "Let it sound", that's his motto.
---
Name: Lionel
Instrument: Bass
Lionel
---
He's a real grounded-but-dreaming guy. Lionel can play many instruments. He first played bass in a rock band. But Country Music was made for him, because he loves his mountains, his family and he's real, simple and faithful.
He meets the HR when they were looking for a new bass player after the leaving of their former's. There was no doubt; it was love at first sight, musically and humanly.
Off and on stage, he's always calm and smiling! He is the band's quiet strength.
---